Article
2021·01·27
WEDF at Africa Tech Festival
The World Ethical Data Forum Joins Africa Tech Festival to Discuss Combating Internet Misinformation and the Africa Tech Ecosystem
In November 2020, John David Marshall (CEO of the World Ethical Data Forum) joined the Africa Tech Festival to discuss strategies for combating Internet misinformation and the African technological tech ecosystem alongside Tomiwa Aladeko (CEO of Big Cabal Media), Emmanuel Lubanzadio (Head of Public Policy Sub-Saharan Africa at Twitter), and Daniel Kimmage (Principal Deputy Coordinator at the Global Engagement Center at the U.S. Department of State).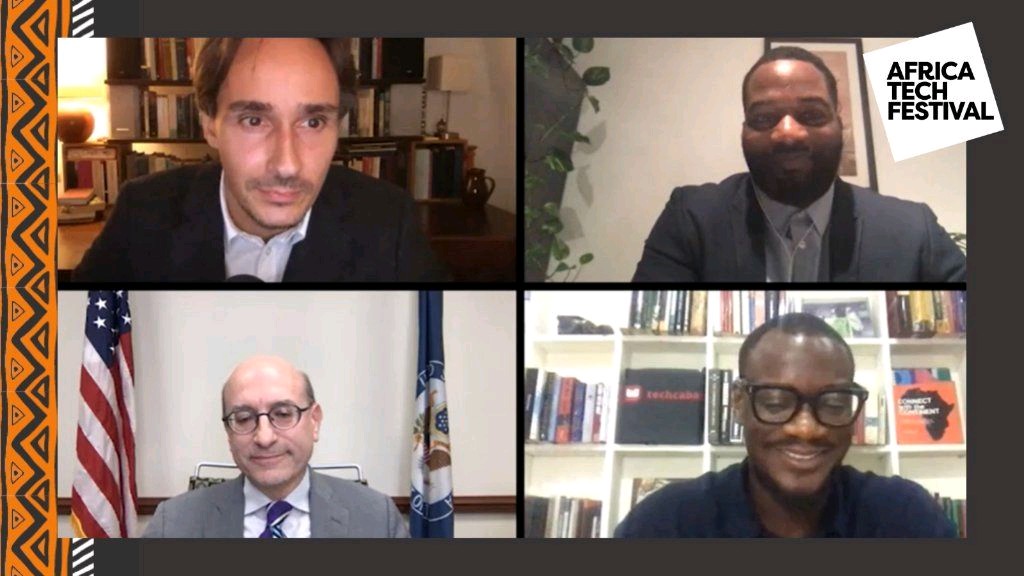 CEO of the World Ethical Data Forum, John David Marshall:
"Breadth of perspectives is one of the challenges here, I mean, the world is extraordinarily complex. We are ceaselessly having to ask ourselves how much we should try to know on our own and how much we can responsibly delegate… Disinformation, as a term, applied to Africa or anywhere else in the world, is something that we have to recognize implies different kinds of risks or threats to different kinds of political systems and peoples for all kinds of reasons." 
Disinformation and the proliferation of doctored narratives, spread by humans and bots across the internet, pose great challenges for regulators and social media platforms. Recent events, from certain of the narratives surrounding the COVID-19 pandemic, the precarious U.S election, and the consequent storming of Capitol Building, to narrative-driven atrocities in South Sudan, has once again demonstrated how critical it is that we quickly discover better answers. The conversation held at the Safe and Secure Africa Tech Festival touched on several of the challenges posed by disinformation and the fracturing of trust in social media platforms, governments, and corporations, as well as possible solutions.
The questions that arose from the discussion of misinformation, as clearly phrased by Daniel Kimmage, followed "the incredible epistemological issues involved in how do we know what we know ….One of the reasons this problem is so incredibly challenging, but also so compelling, is that it brings together all of these fields of knowledge and to end with sort of where I began: we don't have obviously a perfect solution to this." 
Touching on the spectre of censorship John David Marshall continued, "we have to be very careful… if we're committed to liberal society, focusing simply on causes and effects will come with some remarkable sacrifices that I don't believe where we're willing to make …what is called for is not so much stripping away of knowledge, but a repositioning of ourselves in relation to it." 
Emmanuel Lubanzadio and Daniel Kimmage both noted that solutions moving forward should include partnerships and multiple stakeholders working together, and stressed the importance of regional collaboration. It is particularly important for platforms to have a network of partners for localized insight and credibility to "counter propaganda and disinformation".
The panelists addressed numerous issues, such as what responsibility social media companies have for the mitigation of disinformation and misinformation, as well as press freedom, power and purpose, and the importance of dialogue between the press, civil society organisations, and government institutions going forward. 
Three key takeaways from this discussion are: 
1. Platforms should be wary of the severe dangers of censorship; rather the public should be encouraged to engage with information more critically.
2. It is necessary to involve a sufficient number of relevant actors to ensure accurate information flow and push back against dis/misinformation; in particular, open discussion plays an essential role in combating disinformation campaigns instigated by authoritarian and totalitarian regimes. 
3. Open and public conversation between tech companies, state agencies, and civic society is critical to keeping disinformation in check. 
The full 30 mins discussion is available here. To learn more about disinformation and contribute to open discussion about other important topics, alongside leading voices in the field such as Cory Doctorow, Chris Hedges, Mikko Hyppönen, and Anne-Marie Eklund Löwinder, secure your place at the World Ethical Data Forum 2021: https://worldethicaldataforum.org/tickets.
Further reading: 
---